About H2O Home Improvements, LLC - A Lynchburg Pressure Washer You Can Depend On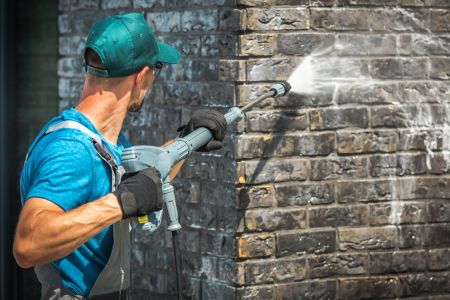 H2O Home Improvements, LLC isn't just a pressure washer company in Lynchburg - we're a family-oriented, community-based, and hard-working establishment dedicated to providing your home or business with the best quality of services.
Our founder, Hunter Sprinkle, is a committed husband, loving father, and dedicated community leader. He spent his time being a pressure washer on the side while holding a full-time job as a purchasing agent. Then, during the pandemic, he was laid off from his job. So what did he do? He became a pressure washer - full-time. He built this business from the ground up and gives back to his community with pressure washing in Lynchburg.
H2O Home Improvements, LLC is a small pressure washer business born out of love and commitment, but make no mistake, we are BIG on dedication, hard work, and excellent service.
We provide a variety of services, both commercial and residential:
Pressure Washing & Soft Washing
Gutter Cleaning
Christmas Light Installation
AND MORE
Articles & Tips
What's The Deal With Dryer Vents?

Whether you know it or not, our houses have dryer vents. It may sound pretty obvious, especially if you have a dryer, but sometimes these things fly under the radar. People may not know that fault […]

Boosting Your Curb Appeal

Curb appeal isn't just for when you're selling or buying a home. It's also about setting a gold standard for your neighborhood and increasing the value of your home. Plus, it's nice to have people […]
GET A FREE QUOTE TODAY WITH A LYNCHBURG PRESSURE WASHING PRO!