First-Rate Lynchburg Building Washing You Can Trust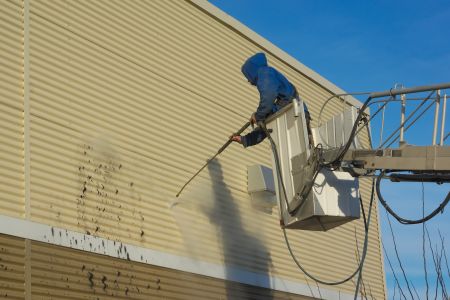 Like homes, buildings deserve to shine their brightest and look good.
H2O Home Improvements, LLC provides top-tier quality building washing in Lynchburg.
Building washing is one of the main commercial services we provide. Just like our homes, commercial buildings need routine care and maintenance.
Just like pressure washing for houses boosts curb appeal, the same goes for building washing. A clean and neat-looking building attracts the eye and customers. A building free of dirt and mildew is good for business - yours and ours.
Is Building Washing The Same As House Washing?
Depending on the building, the services we provide buildings are nearly the same or easily translatable for what we do for houses - it just tends to be on a bigger scale. We offer pressure washing, soft washing, and different kinds of cleaning for the exterior of buildings.
Buildings, of course, tend to need more maintenance than houses. Buildings tend to be much larger than houses, so washing them is a bigger job. There's more traffic and wear and tear involved with buildings. There's also a lot at stake.
Benefits Of Building Washing
Would you want your house to look dirty and unkempt? Why not hold your business buildings to the same standard? After all, they're the homes to all your businesses.
Building Washing gives your building a professional, neat, and welcoming look, and the way your building looks is one of the first things people notice. First impressions are not easy to let go of. Why not get it right the first time and go with H2O Home Improvements, LLC for all your building washing needs?
Some other benefits include:
Prevent damage and repairs
Boost curb appeal
Attract more people and businesses
Promote the health of the community
Building Washing Is The Right Move
H2O Home Improvements, LLC provides storefront cleaning and pressure washing to ensure your building looks healthy and clean. We have several methods of cleaning to fit your needs and pride ourselves on Lynchburg pressure washing.
Articles & Tips
What's The Deal With Dryer Vents?

Whether you know it or not, our houses have dryer vents. It may sound pretty obvious, especially if you have a dryer, but sometimes these things fly under the radar. People may not know that fault […]

Boosting Your Curb Appeal

Curb appeal isn't just for when you're selling or buying a home. It's also about setting a gold standard for your neighborhood and increasing the value of your home. Plus, it's nice to have people […]
GET A FREE QUOTE TODAY WITH A LYNCHBURG PRESSURE WASHING PRO!