House Washing To Improve The Curb Appeal Of Homes In Lynchburg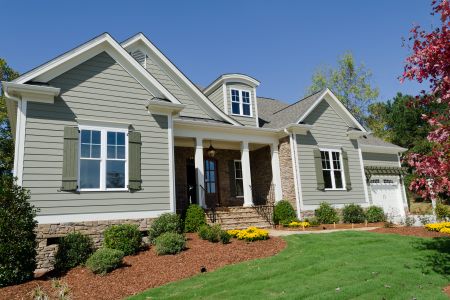 House washing can revitalize your home and make it look as good as new. If you're looking to sell your home, house washing is a great investment.
You want people to give your house a double-take and say, "Wow! That's a nice-looking house." Our services can make that happen.
Even if you're not selling your house, having a home that looks clean will boost your self-esteem and help your community look nice.
A Clean Home Is A Happy Home
Every now and then your home needs a good house washing, and here in Lynchburg, we offer a variety of services to clean the exterior of your house and brighten your community.
Whether you're looking to sell your home or just keep it looking nice, H2O Home Improvements, LLC is dedicated to making your home look and feel as clean as we can.
What Exactly Is House Washing?
Simply put, it's a shower for your house. However, just like a shower, there are different ways to get clean.
We use two different methods for house washing:
Pressure washing - Pressure washing uses a special nozzle and tip attached to a water hose that pushes out water at a high PSI. This allows the water to cut through dirt, grime, and other unwanted buildups.
Soft washing - With soft washing, water is being pushed out of the nozzle with a special attachment that broadens the spray of the water. It's less intense than a pressure washing, so it's an ideal method of cleaning for more delicate surface areas (like vinyl siding).
Dirty House? No Problem.
Depending on your home's condition and environment, we offer soft washing and pressure washing for Lynchburg homes. We clean all kinds of surfaces and materials, including:
Wood
Concrete
Vinyl siding
Gutters
Windows
AND MORE!
We'll pressure wash your driveway, brighten up your windows, and give your house a thorough deck cleaning. Whatever kind of house washing you need, we got it covered.
How Often Should You Get a House Washing?
We recommend a thorough house washing at least once a year, but sometimes Mother Nature has her own plan. Here at H2O Home Improvements, LLC, we are dedicated to getting your house to look the best it can. Whatever your house washing needs are, you can count on us!
Articles & Tips
What's The Deal With Dryer Vents?

Whether you know it or not, our houses have dryer vents. It may sound pretty obvious, especially if you have a dryer, but sometimes these things fly under the radar. People may not know that fault […]

Boosting Your Curb Appeal

Curb appeal isn't just for when you're selling or buying a home. It's also about setting a gold standard for your neighborhood and increasing the value of your home. Plus, it's nice to have people […]
GET A FREE QUOTE TODAY WITH A LYNCHBURG PRESSURE WASHING PRO!