Parking Lot Cleaning Pros Caring For Lynchburg Properties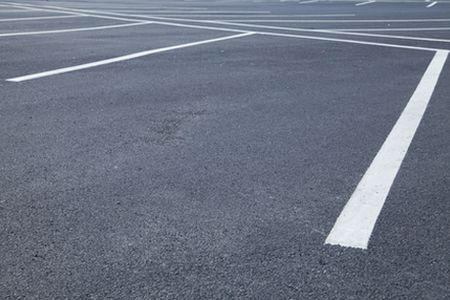 H2O Home Improvements, LLC cleans every part of your business. We have all your building washing needs to deep clean walls, storefronts, and we also provide parking lot cleaning in Lynchburg.
It's probably not common knowledge that parking lots need to be cleaned at least once a year.
Parking Lots Can Be Cleaned?
You're probably thinking, "Why bother even cleaning a parking lot? All you do in a parking lot is park your car and walk in it." While that may be true, it's not a place to be overlooked. A parking lot is an extension of your business. It's oftentimes the first impression maker that people will have regarding your business.
Think about how many cars and trucks park in your parking lot daily. That's quite a lot of traffic, no pun intended. Cars and trucks sit there for hours on end, dripping all kinds of fluids onto the asphalt. Now think about how much accumulates over a year…
A Healthy Parking Lot
So much oil, dirt, and grime gets built up over the years on parking lots. The oils and dirt seep in and leave nasty stains. It's not a good look.
Not only should parking lots be cleaned, but they should receive routine inspections to ensure a high-quality parking experience. Now and then, you should check your parking lot for cracking and for any roots breaking through the surface.
A few ways to maintain the integrity of your parking lot are:
Provide routine inspections
Repaint lines as needed
Remove leaves and mulch in time to prevent staining
Maintain the upkeep of plants/trees (if your parking lot has areas for them)
Get routine pressure washing services
Pressure Washing Parking Lots
As you may know, H2O Home Improvements, LLC specializes in pressure washing in Lynchburg. We pressure wash all sorts of things and surfaces. Parking lot cleaning is another service in our repertoire.
We can service all sorts and sizes of parking lots. We can even arrange after-hours cleaning to allow for convenience.
Articles & Tips
What's The Deal With Dryer Vents?

Whether you know it or not, our houses have dryer vents. It may sound pretty obvious, especially if you have a dryer, but sometimes these things fly under the radar. People may not know that fault […]

Boosting Your Curb Appeal

Curb appeal isn't just for when you're selling or buying a home. It's also about setting a gold standard for your neighborhood and increasing the value of your home. Plus, it's nice to have people […]
GET A FREE QUOTE TODAY WITH A LYNCHBURG PRESSURE WASHING PRO!