Driveway Washing For Top Quality Lynchburg Concrete Cleaning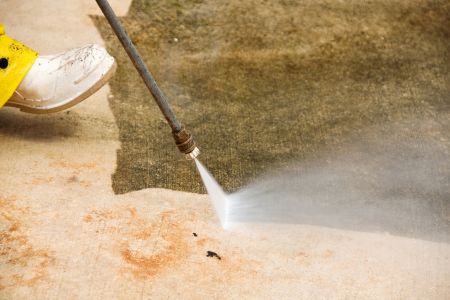 H2O Home Improvements, LLC provides top-to-bottom house washing services in Lynchburg...and we do mean top to BOTTOM. Your driveway may be at the physical bottom, but driveway washing is at the top of our list. We strive to provide quality service without compromise.
The Lynchburg pressure washing services include driveway washing.
Taking Care Of Your Driveway
Driveway washing is more important than you think. It's a huge part of your home, literally. You park your cars on it and it's one of the first things someone sees when they come to your house.
Driveways that have stains and dirt and are just unkempt, send the wrong message.
Over time, driveways can get pretty dirty. It's a fact of life. Your cars can leak oil and other fluids...which definitely can leave nasty stains. Not only that but regular mud and dirt get washed up onto your driveway which seeps into the cracks and can set in over a period of time.
No matter the stain, we got it covered...or really, washed.
We recommend you get a driveway cleaning once a year.
We've Got The Drive
Your driveway is important to you...and us. We know the importance of maintaining the overall look of your home. The driveway is a key part of that.
It's a fact: driveways just look better after our driveway cleaning services. They're revitalized and return to their original color. We blast away dirt, oil, and heavy stains with our top-of-the-line pressure washing and driveway cleaning.
H2O Home Improvements, LLC is dedicated to providing you the best driveway washing that we can offer. Our pressure washing services are unmatched and we'll have your driveway looking brand new in no time.
Articles & Tips
What's The Deal With Dryer Vents?

Whether you know it or not, our houses have dryer vents. It may sound pretty obvious, especially if you have a dryer, but sometimes these things fly under the radar. People may not know that fault […]

Boosting Your Curb Appeal

Curb appeal isn't just for when you're selling or buying a home. It's also about setting a gold standard for your neighborhood and increasing the value of your home. Plus, it's nice to have people […]
GET A FREE QUOTE TODAY WITH A LYNCHBURG PRESSURE WASHING PRO!