Outstanding Pressure Washing Specialists Serving Amherst, VA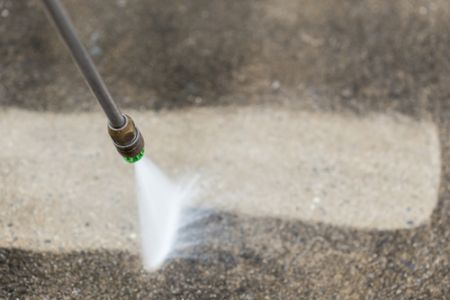 Here at H2O Home Improvements, LLC, we provide pressure washing for a large community in Lynchburg, Amherst, and beyond.
Amherst is one of many great many communities we have the honor of serving here at H2O Home Improvements, LLC. Don't think that just because we serve a lot of places means the quality is less. We strive to serve all clients as if they're our only clients. Meaning you'll get the best of the best quality service.
All of our commercial and residential services are available to Amherst residents, including...
Deck Cleaning For Our Amherst Residents
If you have a deck or know someone with a deck in Amherst, we provide deck cleaning services.
Decks all across the state deserve to be clean, bright, and healthy. While we can't service every deck that exists in the state, we can service every deck in Amherst.
Pressure Washing In Amherst
Amherst can shine brighter and look cleaner with the pressure washing services we offer here at H2O Home Improvements, LLC. Pressure washing is an excellent method of cleaning for driveway cleaning and parking lot cleaning. Our parking lot cleaning is a service you can find under the commercial pressure washing service page.
We don't, however, recommend pressure washing for most roofs. See our roof washing page for more information on what kind of roof washing is right for you.
H2O Home Improvements, LLC also offers Commercial pressure washing services, which are also available to all Amherst residents because it's not just homes that we work on. We work on your businesses too. Our commercial services are just as excellent as our residential services, just on a bigger scale. We offer parking lot cleaning and building washing in our commercial services.
If you live in Amherst or the surrounding area and need pressure washing, deck cleaning, or any of our many quality services, please give us a call today at 434-381-0141. We're happy to provide you with a free quote for whatever your needs are.
Reviews & Testimonials on H2O Home Improvements, LLC in Amherst, VA
There are currently no reviews or testimonials for Amherst, VA. Check back soon!
Articles & Tips
What's The Deal With Dryer Vents?

Whether you know it or not, our houses have dryer vents. It may sound pretty obvious, especially if you have a dryer, but sometimes these things fly under the radar. People may not know that fault […]

Boosting Your Curb Appeal

Curb appeal isn't just for when you're selling or buying a home. It's also about setting a gold standard for your neighborhood and increasing the value of your home. Plus, it's nice to have people […]
GET A FREE QUOTE TODAY WITH A LYNCHBURG PRESSURE WASHING PRO!