Gutter Cleaning & Brightening To Care For Your Lynchburg Gutters, Inside & Out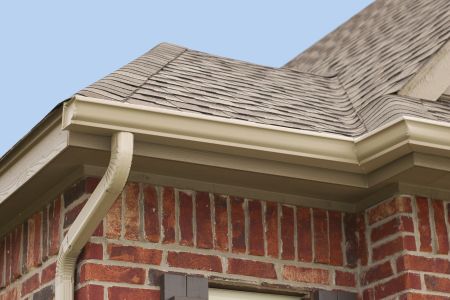 Gutters catch all sorts of debris and water. At H2O Home Improvements, LLC, we provide top-of-the-line gutter cleaning in Lynchburg to ensure your gutters are working as well as they should.
Leaf My Gutter Alone
Leaves are a part of life. We see them grow in the spring, get greener in the summer, change colors in the fall, and fall off in the winter. Unfortunately, leaves tend to find their way into our gutters...among other things.
Leaves and other debris can clog your gutter and even cause extensive damage to your gutter system if it's not taken care of.
What Kind Of Damage?
When your gutters are clogged and not doing their job, water can run down the side of your house and into your basement, destroying your home and foundation with extensive water damage. Gutter cleaning can help prevent such an expensive problem.
As you know, in the wintertime, water freezes. So any water caught in your clogged gutters will freeze and that can be too heavy for your gutters to handle, causing your gutter system to break away from your house. Yet again another expensive problem.
Water damage is no joke, and clogged gutters can cause water damage to your roof and house. Roof washing and pressure washing are also available as part of our services.
All-in-all, gutter cleaning helps prevent expensive problems and damage.
Gutter Brightening
H2O Home Improvements, LLC not only provides pressure washing in Lynchburg but in addition to gutter cleaning, we also offer gutter brightening services. Gutters can come in a selection of colors, but over time Mother Nature has its way with your gutters, making them unrecognizable and dirty.
We provide gutter brightening services that repair and removes oxidation from your gutters and restores them to their original color.
We can schedule your gutters to be cleaned and brightened at your convenience and pleasure. It can be once a year, twice a year, or however often you need.
Articles & Tips
What's The Deal With Dryer Vents?

Whether you know it or not, our houses have dryer vents. It may sound pretty obvious, especially if you have a dryer, but sometimes these things fly under the radar. People may not know that fault […]

Boosting Your Curb Appeal

Curb appeal isn't just for when you're selling or buying a home. It's also about setting a gold standard for your neighborhood and increasing the value of your home. Plus, it's nice to have people […]
GET A FREE QUOTE TODAY WITH A LYNCHBURG PRESSURE WASHING PRO!